The traditional Boxing Day Merlin Annual Pass sale launched this morning, however the new sale prices brought with it some controversy over the cost for those renewing their Annual Passes for another year.
This year the sale sees the cost of a new pass and a renewal both at the same price. For Standard Passes this means an individual pass will cost £119, whilst a family pass will set you back £99pp. Premium passes are being charged at £149 for an individual and £119pp for a family pass. Up until 10am this morning (26th December), current pass-holders could renew their Standard Pass for £111.30 for an individual and £83.30pp for a family, and their Premium Pass for £119.40 for an individual and £93.60pp for a family meaning the current sale has seen an increase of £7.70 (individual)/£15.70pp (family) and £29.60 (individual)/£26.30pp (family) respectively.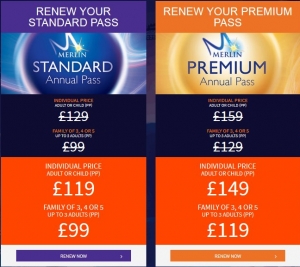 Many current pass holders have taken to social media to vent their frustration at the sale bringing an increase in the cost of renewing their passes, with some having only received an email as recently as three days ago inviting them to renew their passes at the lower cost. Several of the posts highlight the fact that Merlin did not make people aware in their emails that they would have to renew before today to receive the lower price – although Merlin did have a notice on their website stating the prices would be changing on the 26th December.
Alongside the changes in prices there have also been some alterations to some of the restrictions for both the Standard and Premium passes, and changes to the Privilege Packs issued to Premium pass-holders. Standard pass holders will be unable to use their passes to enter Merlin's newest attraction – Shrek's Adventure – when it opens in the summer, whilst Premium pass holders will have to wait until September 2015 to gain entry with their passes when it will be strictly pre-booked entry only (it is unclear if VIP pass-holders will be subject to the same restrictions on the new attraction). For 2015 Premium Passes, the Privilege Packs have now been split into adult and child packs. Adults receive a lanyard, fastrack vouchers, information booklet, 'Share the fun' vouchers which enable them to bring their friends for £10 each (these are valid any time and replace the birthday vouchers), and exclusive pin badges. Child packs contain a pop badge in place of the pin badge, and 'Passport of Fun' enabling them to collect stamps from each attraction in place of the information booklet.
What are your thoughts on the new Annual Pass prices? Have your say over on the Attraction Source Forum. Be sure to keep an eye on TowersTimes as we continue to bring you all the latest news.