There are a variety of cuisines available across the theme park, which are offered through both fast-food outlets and sit-down restaurants. If you only want a quick snack or just need to rehydrate, there are also stalls that can serve you.
The Burger Kitchen (Only Cloud Cuckoo Land & Mutiny Bay)
Located: Cloud Cuckoo Land, Forbidden Valley & Mutiny Bay
The Burger Kitchen offers succulent and tasty burgers, from a menu of huge variety, with all meals including fries and a drink. There are three restaurants situated across the park, which all provide a casual dining experience, allowing you to eat in or grab and go.
Coffee Lounge
Located: Forbidden Valley
Found under the Monorail track, opposite the exit from Nemesis, this outlet serves Starbucks coffee, perfect for when you're in need of a hot drink or caffeine fix whilst exploring the area's attractions. There is seating available both inside and out.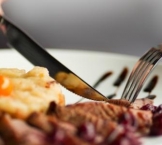 Corner Coffee & Bar
Located: Towers Street
Close to CBeebies Land's entrance, this Cafe serves hot beverages and freshly made sandwiches, paninis, wraps and cakes, alongside healthier salads and fruit pots. It's location means that you can warm yourself up at the start of the day, or recuperate your energy after a day of thrills. You're able to sit both inside and outside.
Courtyard BBQ & Bar (Only Bar Currently Open)
Located: Mutiny Bay
There is a variety of BBQ type food on offer as well as being one of two venues in the park that serves alcohol. There covered heated seating available in the adjacent courtyard, meaning you can enjoy the Pirate Show while munching on your lunch. With something for the whole family, this is a great location to meet for lunch.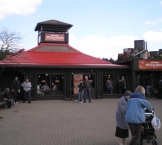 Explorers Pizza & Pasta Buffet
Located: Katanga Canyon
Found opposite the entrance to the Runaway Mine Train, the restaurant serves a buffet of pizza, pasta and salad. That means you can go back for seconds or even more, if your day in the theme park has left you feeling rather peckish! Gluten Free meals are available on request and both indoor and outdoor Seating is available.
The Fried Chicken Co.
Located: X Sector
As the name suggests, this Oblivion-themed restaurant's menu primarily consists of chicken which as been coated by a unique seasoning (possibly another stage of marmalisation). What's more, indoor and outdoor seating is available, allowing guests to watch people plummet into Oblivion, or be marmalised by The Smiler.
Little Explorers Lunch Box
Located: CBeebies Land
Exploring CBeebies Land and having fun is thirsty work! Situated besides Postman Pat Parcel Post, Little Explorers Lunch Box offers a varied menu, with healthy options such as sandwiches and also treats including cakes and other pastries. Indoor seating is available, so grown ups can also recharge their batteries whilst enjoying a hot drink.
Located: Forbidden Valley
Alton Towers Resort is home to the UK's first Rollercoaster Restaurant, offering a unique dining experience. Once seated at one of 13 tables, diners can watch their orders travel through two 'loop-the-loops' before spiraling down 8 metres to their table. It is also possible for hotel guests to reserve a table at the restaurant during the evening.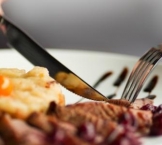 Towers St. Bar & Grill (Only Bar Currently Open)
Located: Towers Street
The recently refurbished restaurant opens at 9am in order to provide breakfast for those early arriving guests, or as somewhere to grab a coffee if you don't have Early Ride Time. There's a variety of food on the menu, including children's meals and healthy options, which you can sit down inside to eat.
Woodcutter's Bar & Grill
Located: Outside Dark Forest
All meals are freshly prepared and delivered to your table, and include everything from Sandwiches to steak and burgers. This outlet also caters for people with gluten intolerance, vegetarian diets and offers smaller children's portions, as well as being one of two establishments in the park that serves alcohol.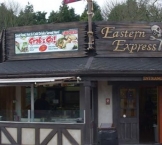 Eastern Express

Located: Mutiny Bay
Located near Marauder's Mayhem, this stall sells a variety of food from jacket potatoes to sandwiches and kebabs all with an Eastern twist.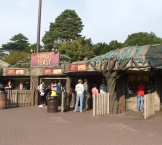 Forest Feast
Located: Dark Forest
These stands offer a variety of food to go, with a choice of traditional pasties, jacket potatoes or extra large hot dogs! There are also sweet treats available, such as sugar coated donuts, which will give you a boost of energy to accompany an adrenaline rush! Also in the vicinity are picnic tables, which can get very busy around lunchtime.
Pirates Pasties/Hotdogs/Pancakes
Located: Mutiny Bay
Situated beside Battle Galleons, you can grab a hotdog, a traditional pasty or have pancakes made to order. There's also the option to add marshmallows and chocolates (to your pancakes of course)! What's more, you can settle down to eat at the nearby Pirate Show!
Wobble World Cafe (Currently Closed)
Located: Cloud Cuckoo Land
Whilst parents settle down for a rest with a warming hot drink, kids are able to explore the bouncy indoor play area. There are a range of snacks on offer, from hot dogs and sandwiches to ice cream and cakes, which can all be eaten on the indoor and outdoor seating that is available.
Nitrogenie
Located: Gloomy Wood
Found beside Duel, Nitrogenie uses liquid nitrogen to rapidly cool their special anglaise. This produces an incredibly smooth sweet treat, which can be enjoyed as a regular or large tub, or in a waffle cone.
Tormented Treats
Located at the entrance to Dark Forest.

Forbidden Treats
Located half way down the row of stalls in Forbidden Valley.

Gloomy Wood Kiosk
Located between Forbidden Valley and Gloomy Wood.

Katanga Kabin
Located on the walk between Mutiny Bay and Katanga Canyon.

Archway Tuck Shop
Located beside the Towers near the arch above the path to Fountain Square.

Coca Cola Refill Station
Located at the entrance to Towers Street, outside Towers Trading Co.

Front Lawn Tuck Shop
Located near to the entrance to X Sector

Rehydrator Bar
Located in X Sector at the base of Oblivion's drop.