When you're looking for a venue that's a bit more unusual, with plenty of space, state-of-the-art facilities and first-class catering; Alton Towers Resort has the perfect solution. Even if you're just arranging an event at the resort, the Conference Centre facilities are a great place to welcome your guests or base yourself.
Corporate Packages
Catering Options
Located: On hotel walkway
The Conference Centre team can supply everything you need for your corporate event, from the venue itself to all the smaller details to give you 'business with a twist'. Therefore, as business is never 'as usual' at Alton Towers, your delegates will truly have a day to remember.
You'll find the Alton Towers Conference Centre conveniently situated between the Splash Landings and Alton Towers Hotel, so your delegates won't have to venture outdoors from their hotel rooms. It boasts flexible space, outstanding facilities, such as private bars and a patio, and is within easy access of all the other attractions that the resort has to offer.
Whilst the Conference Centre is the centrepiece of the resort's corporate offerings, there are also facilities elsewhere in the hotels and theme park that are sure to accommodate your needs. We recommend visiting Alton Towers Resort's Corporate Website for more details on these!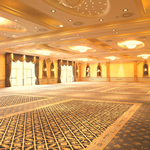 The State Room holds up to 320 delegates, and can be divided into three enclosed sections: Endeavour, Explorer and Voyager. It has an AV system, state-of-the-art lighting and easy access for the delivery and installation of any extra equipment.
Food and drinks can be served by a dedicated in house kitchen team, and the State Room also has its own bar and patio area, as well as wireless internet access.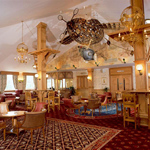 On the first floor of the Conference Centre, Sir Algenon's Lounge offers a hospitality and chill-out zone. This venue makes for a great area to welcome your guests upon arrival at your corporate event, allowing them to mingle and make use of the bar.
Next to the lounge there is a fully-equipped Business Centre, as well as a cloakroom. It is situated on the same level as the Syndicate Rooms.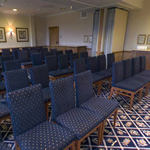 Syndicate Rooms
Located on the same level as Sir Algenon's Lounge, these 8 syndicate rooms offer a smaller space, suitable for meetings. Four of the rooms are able to be opened up in order to form two larger rooms, if you're looking for a more medium-sized venue.
All of the rooms have numerous plug sockets, air conditioning as well as high speed wireless internet access.
Other Venues
The Alton Towers Resort also has several alternative corporate venues, situated in both the hotel complex and theme park. These may be better suited to your needs, especially if you plan to spend the majority of your day enjoying the resort's rides and attractions and need a closer location to base your delegates.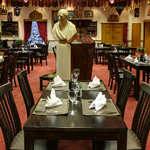 Emperor's Suite
Situated on the ground floor of the Alton Towers Hotel, this room is an additional option for all sorts of different events including seminars, presentations and conferences.
With a capacity of 200, the suite can be divided into three self-contained rooms and is adjacent to the Dragon Bar and Secret Garden Restaurant.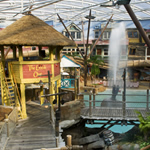 Waterpark
You can be sure to make a splash with your corporate event if you choose to spend the day in the Alton Towers Waterpark. What's more you don't have to worry about the weather, as the climate is always tropical!
The Waterpark is a great venue for daytime team-building activities or the perfect place for pre-dinner drinks in the evening.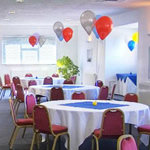 Towers Suite
Located just off Towers Street,  this venue is ideally located near the entrance to the theme park allowing your guests easy access to your base at the start of the day. The suite is made up of the Towers Room and Lake View Room.
Set away from the theme park crowds, your delegates can enjoy the private bar, views of the historic Towers and have access to private toilets too!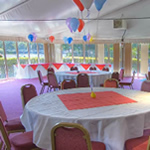 Hospitality Suite
This venue is located adjacent to Adventure Land and the lake, placing it somewhat further into the theme park. The airy space that it provides, can be used flexibly to meet your needs making it an ideal base for any event.
As with other venues, your guests have access to a private bar, toilets and also a patio, meaning that it's a great location to utilise over the summer period.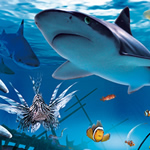 Sharkbait Reef
If you still fancy adding water to your event, but don't want to get soaked in the Waterpark, you can instead enjoy drinks and dinner amongst the hundreds of species of fish that this attraction is home to.
This is one of the most unique venues at the resort, and having dessert in the ocean tunnel will certainly ensure that your delegates have a memorable evening.
Corporate Packages
To save you from having to start from scratch, the Alton Towers Resort has several generic packages to structure your day around. But don't worry if there's something missing, there is also a range of optional add-ons to ensure that you hold a fantabulous corporate event.
Head over to the resort's Conferences and Events Website for the latest details and prices of the packages on offer.
Catering Options
The Conference Centre has a dedicated kitchen which tailors exclusively for conferences and events. These can be delivered in: Sir Algenon's Lounge, which is ideal for refreshments and pre-dinner drinks. The Stateroom caters for up to 430 for lunch or dinner, or 400 for a dinner dance, and has a private patio area for refreshments and barbeques. The Hospitality Marquee caters for 350 for a dinner dance or 400 people for a seated meal. Alternatively you can have your meal in the Towers Suite's Lake View room which seats 120 for lunch or dinner, or Towers Room which seats 50.
In the Alton Towers Hotel, the Secret Garden Restaurant seats in excess of 300 people and is an ideal venue for conference lunches. It offers an assorted mix of international food in typically English surroundings. You'll also have access to the nearby Dragon Bar, and is situated very close to the Emperor's Suite.
At the Splash Landings Hotel, Flambo's Exotic Feast is a 300-seat buffet-style restaurant with a mix of Caribbean and European cuisine. In the same hotel, there is the Original Sandwich Co. which serves drinks and snacks in the Waterpark, and Ma Garrita's Tropical Terrace Bar where delegates can drink exotic cocktails as they look out over the water park.
There are a variety of other edible add-ons to choose from, if you're not looking to lay on a full meal. Full details of all of the above can be found on the resort's Conferences and Events Website.
The resort's original conference facilities were located in the theme park itself, with the Corporate Hospitality Suite and a range of smaller rooms. The opening of the Alton Towers Hotel in 1996 also included the addition of a dedicated conference venue with the Emperor's Suite, which is now principally used as The Emperor Grill restaurant during peak periods.
The Conference Centre itself was built in 2003 alongside the development of Splash Landings Hotel and, what was then, Cariba Creek Waterpark. This allowed for the provision of dedicated and much higher capacity facilities, enabling the resort to expand their share of the conference and events markets.
Prior to it becoming The Emperor Grill, the space was used as part of the Chocolate Towers event as the Easter Bunny's Warren, as well as Room 13 during the Halloweens of 2006 and 2007. In the summer months of 2012, a pop-up restaurant was set up in Sir Algenon's Lounge to expand the hotel's catering options. However, Sir Algenon's Bar & Grill was only a temporary venture, and was removed at the end of 2012's summer period.