Following hot on the heels from our construction update last Sunday (4/5/2014), TowersTimes can bring you further pictures of the latest progress from CBeebies Land over the bank holiday weekend.
The yellow blobs, previously seen on the back of the truck, have now been installed at the entrance to the area welcoming guests and inviting them in.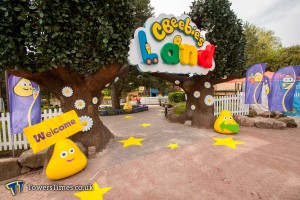 In fact, there appears to have been somewhat of an invasion of the yellow blobs as a number of them have appeared throughout the area – particularly around Get Set Go Treetop Adventure.
There are also hints that the puzzles, which once formed part of the Squirrel Nutty queue-line, could be being refurbished for the new queue-line of Get Set Go Tree top Adventure.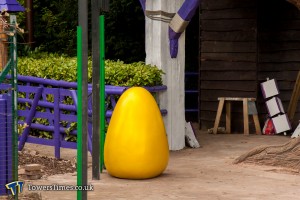 Further work is still being carried out on Postman Pat's Parcel Post. The helicopter spotted previously would appear to have been temporarily removed and another character looks ready to be installed. There is also a selection of animals along the ride track really helping to bring the Village of Greendale to life.
A range of painting is still being carried out throughout, with colourful circles appearing on some fencing, and multi-coloured post toppers being added to some of the fencing surrounding the Something Special Sensory Garden.
More theming elements have also been added to the Something Special Sensory Garden with some colourful hanging objects appearing by the sail shelter. A Video screen has also been installed just inside the entrance suggesting that perhaps Mr. Tumble himself may welcome guests to the attraction.
As the grand opening of CBeebies Land gets ever nearer TowersTimes will continue to bring you all the latest updates. In the meantime, why not discuss your thoughts on Alton Towers Resort's latest family development over in the TowersTimes Forum.
———————-
TowersTimes.co.uk Alton Towers Resort from another point of view!
TowersTimes is the largest independent guide to the Alton Towers Resort with all the information needed to help you plan your trip. We also have the most comprehensive history of the park available online.
TowersTimes Forum is the beating heart of the Alton Towers community. With thousands of active users, our free to join forum is the best place on the internet to share your thoughts, passions and memories of the Alton Towers Resort.