With the grand opening of CBeebies Land now less than 8 weeks away, TowersTimes takes a look at how construction is progressing on the all new family development at the Alton Towers Resort.
One of the most noticeable developments in recent days is the installation of the entrance sign. Featuring the familiar CBeebies branding and blobs, the sign consists of bright and colourful lettering on a simple white background in the form of a cloud. Additional theming has also been added to the surrounding tree structures, including fake foliage and daisies, creating a bright and welcoming entry area.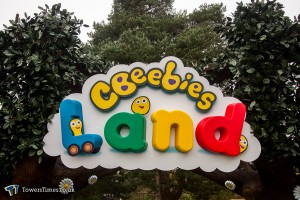 Inside the main area work is continuing across all the new rides and attractions. What appears to be the entry for the Something Special Sensory Garden has now been installed alongside a range of other features of the attraction one of which is Grandad Tumble's shed.
CBeebies Photo Studio is also slowly taking shape. Housed in the lower section of one of the buildings Get Set Go Treetop Adventure passes though, the attraction, like the rest of CBeebies Land, is set to be brightly coloured and will offer guests the opportunity to have their picture taken with some of their favourite characters.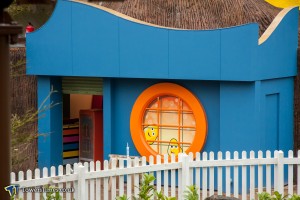 The ride system for Postman Pat's Parcel Post is in the process of being installed with the guide rail clearly visible along the ride's track.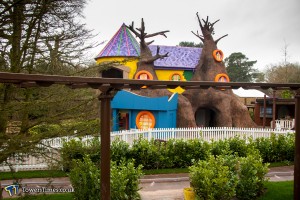 Several ride buildings have had the finer details of their theming added with the familiar CBeebies blobs being added to the windows of a number of buildings and the fencing for the Get Set Go Treetop Adventure station being painted white. Other parts of the station have also been painted to match the yellow and purple CBeebies colour scheme.
Elsewhere, the Big Fun Showtime Pavilion has been installed and a whole range of CBeebies banners have been put up across the land.
What do you think about the latest progress on CBeebies Land? Have your say in our dedicated CBeebies topic on the TowersTimes Forum. Make sure you keep an eye on TowersTimes for all the latest CBeebies Land updates.
———————-
TowersTimes.co.uk Alton Towers Resort from another point of view!
TowersTimes is the largest independent guide to the Alton Towers Resort with all the information needed to help you plan your trip. We also have the most comprehensive history of the park available online.
TowersTimes Forum is the beating heart of the Alton Towers community. With thousands of active users, our free to join forum is the best place on the internet to share your thoughts, passions and memories of the Alton Towers Resort.
Get Social! For the latest news and updates follow us on Twitter and like us on Facebook.