Following on from the submission of plans for brand new accommodation, the Alton Towers Resort have also submitted plans for an extension to their Spa, including a new reception area and Spa Garden.
The new extension will be located to the east of the existing hotel and spa and will add a small amount of floor-space to what is currently on offer. A new dedicated spa reception will be created which will have its own 'feature door' be able to be accessed via a bridge constructed of timber in-keeping with the existing area, with the new spa garden will only be accessible via the existing spa.
A range of new elements are planned for the walled spa garden. Two of the biggest features will be an uncovered hydro-pool, a relaxation fire pit and decking, and a sunken seating area and sauna. Parts of the new seating areas and decking will be protected from the elements by a series of canopies alongside a stone plinth to act as a screen from a public footpath. Leading to the new garden will be a single story conservatory.
Careful consideration has also gone into the appearance of the new extension. In particular, the plans mention a 'feature door' for the new spa entrance 'with other theming elements located along the entrance bridge.' The garden and entrance area will be fully landscaped, including a new ornamental pond with themed centre feature, over which the new entrance bridge will pass. The garden will include a 'series of areas of bounded gravel and climbing plants' to help soften the appearance of the new extension so it blends seamlessly with the existing structures.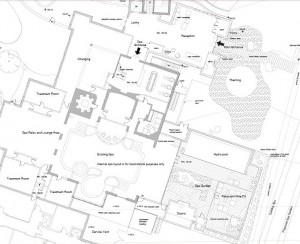 The plans detail a new entrance and spa garden
The full plans can be viewed on the Staffordshire Moorlands District Council Website.
What are your thoughts on these new extension plans? Will they be encouraging you to pay a visit to the spa? Make sure you head on over to the TowersTimes Forum to discuss your thoughts.
———————-
TowersTimes.co.uk Alton Towers Resort from another point of view!
TowersTimes is the largest independent guide to the Alton Towers Resort with all the information needed to help you plan your trip. We also have the most comprehensive history of the park available online.
TowersTimes Forum is the beating heart of the Alton Towers community. With thousands of active users, our free to join forum is the best place on the internet to share your thoughts, passions and memories of the Alton Towers Resort.
Get Social! For the latest news and updates follow us on Twitter and like us on Facebook.