After announcing details of the new drinks capsules for the 2014 season, the Merlin Annual Pass Team have issued an update on the situation regarding the whereabouts of the Privilege Pack which was promised to be delivered to Premium Annual Pass holders in time for the February half term.
In an email sent to pass holders, Merlin have blamed the recent 'severe weather problems' for the delays in the delivery of the packs. Merlin are now promising that all packs will be out 'well in time for the opening of theme parks in March.' Those who are hoping to use their Birthday Club vouchers over the half term have been told that there are a limited number of Privilege Packs now available to collect from attractions, however Merlin is asking that those pass holders who do not qualify to use the vouchers this week to wait for their Privilege Pack to arrive in the post.
This update follows on from the recent announcement on the Merlin Annual Pass Facebook Page of the changes to the drinks capsules for the 2014 season. The announced changes saw Merlin receive a torrent of criticism via social media with over 1000 comments on their Facebook posts alone. This delay in the privilege Packs has further upset many passholders, who are angry that Merlin have not delivered on what they were promised when they bought the pass.
We have included a copy of the email sent to Premium Passholders below for your reference.
What are your thoughts on the recent announcements from the Merlin Annual Pass Team? Are you one of the lucky ones who will be able to collect your privilege Packs from an attraction this week? Head on over to the TowersTimes Forum to discuss this and more.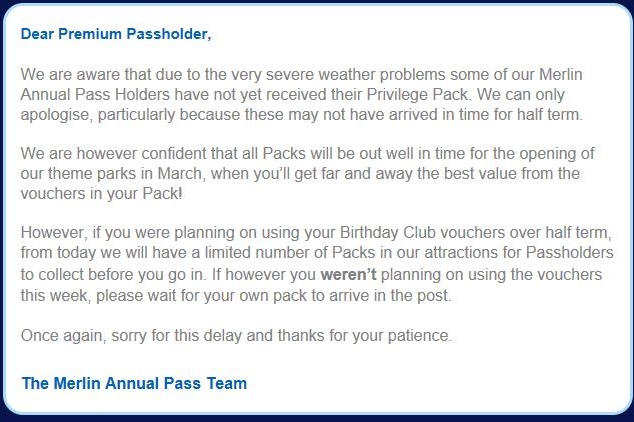 ————
TowersTimes.co.uk Alton Towers Resort from another point of view!
TowersTimes is the largest independent guide to the Alton Towers Resort with all the information needed to help you plan your trip. We also have the most comprehensive history of the park available online.
TowersTimes Forum is the beating heart of the Alton Towers community. With thousands of active users, our free to join forum is the best place on the internet to share your thoughts, passions and memories of the Alton Towers Resort.
Get Social! For the latest news and updates follow us on Twitter and like us on Facebook.