Further details have been revealed by the Merlin Annual pass team today about the new VIP Annual Pass. Costing £500, and limited to just 1000 passes, they offer a range of exclusive benefits not available to any other pass holders.VIP pass holders will be entitled to 12 months entry to Merlin attractions worldwide, with no restrictions on the times they are able to visit, and priority entry to all attractions.
The passes also give the holder unlimited Fastrack at all Merlin theme parks, with the exception of Legoland Windsor Resort. In addition to these benefits pass holders will also be entitled to free preferred parking, unlimited drinks, as well as exclusive experiences and behind the scenes tours.Although the VIP passes are not due to launch until March, those interested are able to sign up for updates via the Merlin Annual Pass website, and there is a waiting list available.Further details have also been released about the new benefits that have been added to the Premium pass.
As mentioned in our previous article Premium pass holders will receive a Privilege pack containing: 'Birthday Club' vouchers, enabling you to take three friends to any UK Merlin attraction for £10 each within 7 days of your birthday, and one Fastrack at theme parks which take the form of three £5 vouchers – one to be used at Alton Towers, one at Thorpe Park, and one at Chessington World of Adventures. Also included is free parking at theme parks and priority entry to all attractions. All pass holders can still enjoy the discounts on food and retail, along with the discounts at the Alton Towers Hotels and Chessington Holiday Inn, plus various pass holder events throughout the year.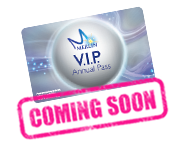 —————
TowersTimes.co.uk
Alton Towers Resort from another point of view!
TowersTimes is the largest independent guide to the Alton Towers Resort with all the information needed to help you plan your trip. We also have the most comprehensive history of the park available online.
TowersTimes Forum is the beating heart of the Alton Towers community. With thousands of active users, our free to join forum is the best place on the internet to share your thoughts, passions and memories of the Alton Towers Resort.
Get Social! For the latest news and updates follow us on Twitter and like us on Facebook.