As the end of the 2013 season rapidly approaches will The Smiler make it to the end? With just under a week until the end of the 2013 season, The Smiler currently stands in X Sector as a mass of track, no longer as an operational ride.
Various technical and structural issues have plagued the ride since it opened on May 31st, after missing two original promised opening dates.
Sunday 27th October
The Smiler temporarily ceased operation for several hours after a bolt fell from a section above the toilet block at the top of X Sector. Minor damage was caused to the roof of the facility, whilst the bolt came to a rest on the floor outside of the toilet block.
A maintenance team were later spotted examining the section of track after the ride came to a halt, and shortly afterwards resumed operation, allowing many guests to experience the brand new fourteen inversion coaster for the first time in the dark.
Saturday 2nd November
With just over a week until the 2013 season ends, The Smiler came into another spot of trouble after losing multiple bearings from the vertical lift hill segment of the track.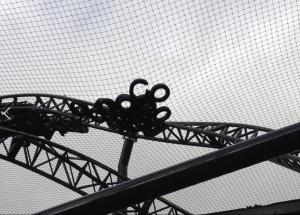 This incident has left the ride out of an operational state, still remaining closed two days after the break out of bearings occurred. It is unknown at present if the ride will reopen before the season ends on Sunday 10th November.

The press have also been quick to pick up on the story, reporting minor injuries was suffered when the guide wheels came loose.  At present, the story has been covered by:

BBC News
Sky News
ITV News
Daily Star
Derby Telegraph
IBC
Stoke Sentinel
Daily Mail
Metro
The Independent
Mirror
Express & Star
The Scotsman
Burton Mail
Travel Mole
AOL Travel
Enterprise, Oblivion and Submission faced the consequences of The Smiler's incident today, with the closure of X Sector due to the arrival of a crane. With less than one week until the end of the season, TowersTimes are currently unsure if The Smiler will see it through to the end of the season, or if it has fallen at the last hurdle and will reopen in 2014. Stay tuned for more information as we get it.


Credit to Paul Jones for the images.