Last year, TowersTimes reported that Alton Towers were intending to build extra on site accommodation for the resort in the form of brand new log cabins.
Alton Towers submitted a planning application seeking a "Phased development of 150 lodges, associated reception/restaurant and servicing buildings at Alton Towers Resort, along with hard and soft landscaping, disabled car parking and associated drainage works." 
The site for this brand new accomodation would have been where overflow car parks "O" and "P" currently stand, with car park "J" being used for the brand new accommodation's car parking.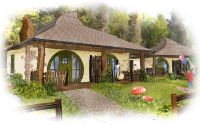 Concept art of the brand new lodges that would have opened in 2014.
The original application was submitted back in November 2012, with decisions aimed to be made in January this year
[one year after the plans for
The Smiler
were originally submitted]. The applications faced opposition from local residents, and a decision still had still not been made at the start of this month.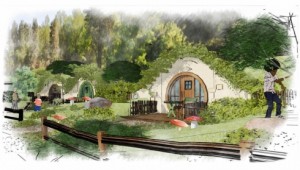 The "holes" would have been a form of accommodation built into the landscape, alongside the lodges.
However, after a decision still has not been made, Alton Towers have chosen to withdraw the application. Despite the plans for this accomodation being withdrawn, the resort are continuing onwards with expanding accommodation. Alton Towers had already gained consent for an extension to the Alton Towers Hotel, adding 36 new suites alongside two bedrooms or 74 bedrooms with no additional suites.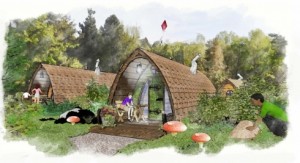 Concept art for the proposed huts that would have been included in the development.
Despite the withdrawal of these applications, the long term development plan for the resort makes it clear an extra form of accommodation is on the cards.