Sad news in the Enthusiast Community today coming from Season Pass Podcast as John Wardley the Veteran Ride designer behind such attractions as Nemesis, Bubbleworks and most recently The Smiler, has confirmed his retirement.
Wardley previously took the role of Ride Consultant but continued to work on Track Layout and various levels of theming elements, He's often noted for his quiet nature and peaceful attitude towards Theme Parks.
John has appeared on various children's television programs such as Blue Peter as well as documentaries on theme parks commenting on his brilliant creations, most notable of these is The Creation of Nemesis, a fascinating story of his own love for thrill rides and his personal opinion on what is arguably one of the best thrill rides in the world, he is quoted as saying
"I was the first person round Nemesis. It was pretty scary, but it's a privilege to know that, since its opening in 1994, 50 million people have ridden it".
Wardley began his career as a stage manager at Windsor's Theatre Royal designing props and special effects for James Bond movies, though he soon started his work on thrill rides when he was hired by Tussauds Entertainment to  "sort out the funfair and circus" at Chessington, he told them that Chessingtons future relied on a far more radical approach, and so due to John Wardley, we have the World of Adventures that exists now. Recently Wardley has been a consultant and designer on Alton Towers Resorts new ride The Smiler
As well as theme parks, John Wardley has been a consultant on the hit Video Game Rollercoaster Tyoon and its sequels, He himself has noted saying
"When this software is run on commercial computers, boy, is it amazing! Combine this with ride technology as used in Universal's Spiderman ride, and the result is an interactive dark ride the like of which has never been seen before.  And that is what I'm working on now, not for any particular park operator, just Frontier and myself experimenting with ideas and playing around."
So, John wardley will never really retire, Because as he says, "When you're a Coaster Enthusiast, You're always a Coaster Enthusiast, and there's no retiring from that.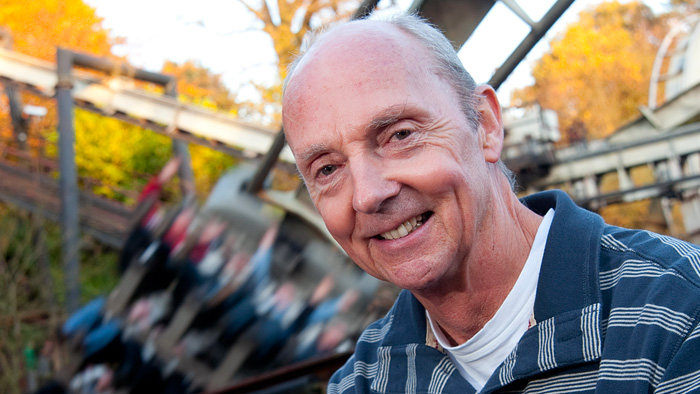 John Wardley, Ride Designer to retire.
John will also be appearing on the Season Pass Podcast later this year to talk about his past, present and future.
So good luck to you John, We at TowersTimes wish you all the best.
You can discuss this story with fellow enthusiasts on TowersTimes Forum