TowersTimes has once again taken to the skies today to bring you the latest construction updates. This time – we're excited to tell you that construction has gone verticle.
Rumors were floating around that the construction of SW7 (due to open on the 16th of March 2013) was 2 weeks behind schedule due to the extreme weather that we have been experiencing. No offical statement has been given on the delays, however, the offical Alton Towers Twitter is still stating that the ride will be open on the 16th of March.
Despite apparent delays – Construction of the 'World Beating Rollercoaster' is finally in full swing and much of the track and supports has been transported from the staff car parks to X-Sector and the construction site.
We will be releasing our exclusive images tonight (10th December) of the latest construction updates. Register or Login to see these before anyone else.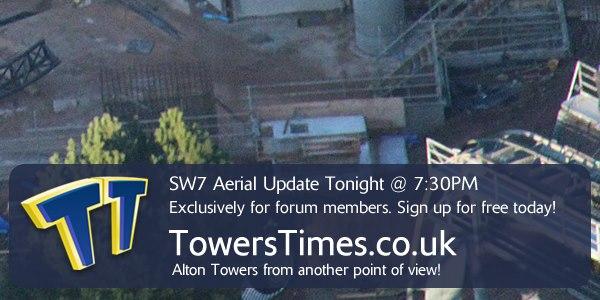 All images will be released shortly after on our SW7 Mini-site.