Today Alton Towers released information on its new Scarefest attractions:
We are now drawing closer to Alton Towers Scarfest 2012 and slowly news items and Tweets are coming to us via various social media sites.
Alton Towers released a varied selection of hashtags namely #SW #TMOJ AND #TS – during the day we had some information sent our way regarding what these may mean, and then some further confirmation from the park.
The Carnival of Screams is to make a return but this year it shall be on the park located near the previous Zombies! site near X-Sector. We understand the location of this is either the Goal Striker tent or a tent next to it.
There are to be two mazes this year built in the Towers ruins instead of the usual one namely "Terror Of The Towers"
The Sanctuary is a new scare maze that invites guests to book an appointment at an abandoned facility, but a terrifying twist awaits. New developments on the X Sector site have uncovered an area of the Towers where human experiments were rumored to have taken place in the early 1900's by a controlling force  known only as The Ministry of Joy.
#TMOJ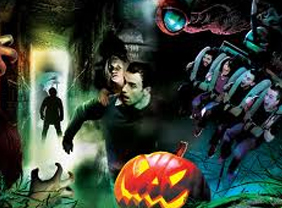 Please discuss Scarefest here