The Black Hole tent that until 2005 housed the popular Black Hole indoor rollercoaster, is finally making its exit from the resort after standing empty for the last 7 years. Despite having a brief ressurection as the location of the 2 paid-for scare mazes in the 2011 Scarefest event, the Black Hole tent has been mainly used for storage since the coaster left.
Planning permission for the 2012 SW7 rollercoaster was granted last month and since then the old tent's days have been numbered.  Word finally came today from TT member Rob that the first stages of demolition had begun.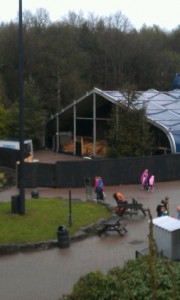 This first stage in the construction process of SW7 coincides with the construction fence banners going up around the site as well as a new mini-site proclaiming the arrival of SW7 in 2013.