The new plans, which are available on the Staffordshire Moorlands Council Planning Portal, give us new insight of what the Secret Weapon 7 theme will be.
The new documents show the previously unreleased large theming object that will be in the middle of the ride area. The planning documents describe the theming element as:
The theming complements the industrial nature of the station/maintenance building and comprises a 'spider like' structure with six legs that extend from the central core (the legs are fixed and do not have any movement). The coaster track winds through the themed structure and is a important component of the proposed attraction.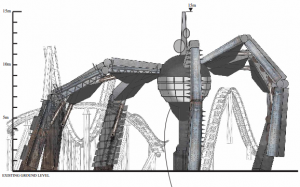 Also, there will be other theming objects such as a surveillance van: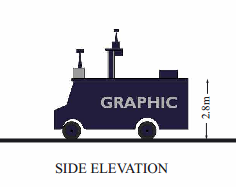 We can also now see what the station may look like: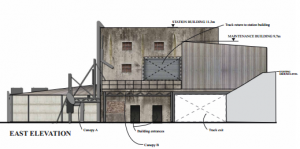 The station building has now increased in size, compared with the original planning documents due to operational and health and safety reasons.
The new planning documents also reveal that there will be a number of mesh canopies around the queue and ride area.
As always, TowersTimes will be bringing you full coverage of all aspects of the SW7 project on our mini-site.