At the end of last season, job advertisements revealed that KFC would be leaving the Alton Towers Resort and would be replaced by an internal Merlin food outlet. It has now been revealed that KFC's replacement will be opening this Saturday during the February Half Term event.
The Fried Chicken Company will be located in X-Sector, near the entrance and opposite the Black Hole tent (which will be removed in 2012 to make way for Secret Weapon 7, Alton Towers Resort's multi-million pound world-first rollercoaster)
With Fried Chicken Company outlets already in Chessington and Legoland, the replacement of KFC comes as no surprise as Merlin Entertainments move towards removing external food companies from their theme parks.
It is expected the new food outlet will have a similar menu to Chessington's outlet, which can be found here.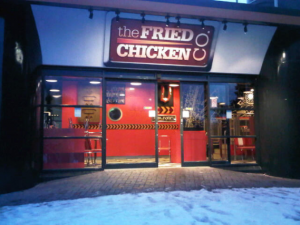 Photo from Alton Towers Resort's Twitter
Stay Tuned to TowersTimes as we bring you all the details from the February Half Term event in the next few days.