The two key promotional images for the new 2012 attractions at the Alton Towers Resort were posted last night on Facebook by Alton Towers Trips, a commercial partner of Alton Towers who provide coach trips from Scotland.
Along with the images, some text was also revealed, discussing some of the details about the attractions.
Nemesis Sub-Terra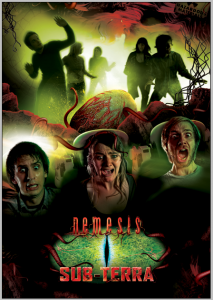 New for 2012, Nemesis Sub Terra is a psychologically and physically thrilling experience, taking place in a dark, intense underground setting and will be based around the back-story of the original Nemesis attraction, which opened in 1994. Set to be one of the Resort's most terrifying attractions, Nemesis Sub Terra takes guests down into the deepest, darkest location of the theme park for the experience.
Ice Age Dawn of the Dinosaurs – The 4-D Experience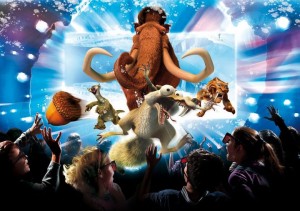 The Alton Towers Resort is set for the coolest attraction of 2012 with the launch of an amazing Ice Age 4-D cinema and two themed rooms in the Splash Landings Hotel. Opening its doors on 24th March for the start of the new theme park season, Ice Age Dawn of the Dinosaurs – The 4-D Experience – will wow guests with a one-of-a-kind interactive experience.

Located in the Cloud Cuckoo Land Theatre of the theme park, the cinema will combine 3-D footage, based on the third movie in the blockbuster series, with an exhilarating variety of physical effects including icy blasts, snow and bubbles! Fans will also have the opportunity to meet both Sid and Scrat around the Alton Towers Resort!

In addition to the 4-D cinema attraction, guests can chill out in one of the two new Ice Age themed bedrooms at the Resort's Splash Landings Hotel. These completely unique, interactive rooms will feature loveable characters Scrat, Manny, Diego and Sid, providing the ultimate sleepover for any Ice Age fan.
With a little over 9 weeks to go until the attractions open, on the 24th of March, excitement is starting to build. Let us know what you think in the comments below, on our Facebook or on the TowersTimes Forums!