It has been an anxious wait over the Christmas period for Alton Towers fans as they waited for the SW7 plans to be released on the Staffordshire Moorlands Council website, the plans have today been released.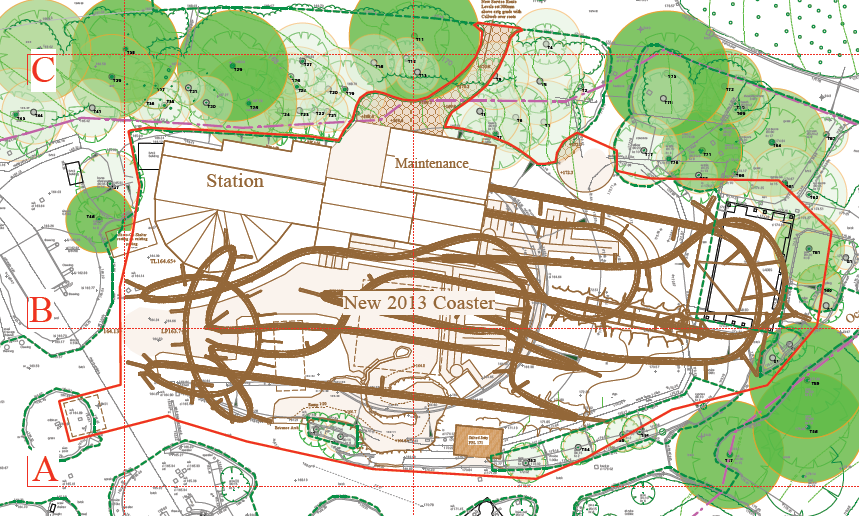 The plans, available to view for youself at this link, contain a number of interesting bites of information. The various planning documents show a thrilling layout with what looks like a number of inversions, this certainly could be the thrill ride that Alton Towers fan have been waiting for since Rita in 2005.
Within the Noise Report document, the following is stated: "Noise from the planned new coaster was modelled based on a similar one located at Thorpe Park. The Thorpe Park ride, "Saw" is the same type and manufacturer as the proposed ride, including a "beyond vertical" drop." From this statement, it now seems likely that Alton Towers have opted to invest in a Gerstlauer Eurofighter, a ride type which is known for its thrilling layout and a beyond vertical drop. However, the track layout from the plans could suggest otherwise.
There is also a large 15m x 15m x 15m theming object in the centre of the site. although no details are shown for this the ride looks like it could interact with it 3 different times. Like many details of the project it is getting kept secret at the moment.
In addition to the above, the plan also reveals that the rollercoaster will feature underground sections, a vertical lift hill, themed objects and probably a few other surprises that we are yet to find out about!