TowersTimes has today received news from TowersTimes Forum member Stu that groundwork has begun on the site of the 2012 attraction for the Alton Towers Resort.
Currently the Lava Lump, which previously stood at the top of Forbidden Valley near The Edge arcade, has been removed signalling the start of preparations for the new attraction.
The signage currently displayed around the old Lava Lump site explains that the area is undergoing essential maintenance but it is understood that this is the first stage of groundwork for the new attraction.
Although planning permission has not yet been granted for the new attraction Alton Towers might be able to start small-scale construction similar to what they did with Thirteen back in 2009.
We have received the following image from earlier today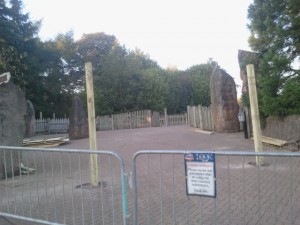 TowersTimes will be bringing you the latest news for the ATR2012 project through our forums, our Twitterand our Facebook. Or feel free to discuss what you think about the new attraction below!