As we announced previously the planning documents for the 2012 attraction at Alton Towers were released on the Staffordshire Moorlands District Council Planning website last week. These plans detailed much of the outside of the new attraction but revealed very few details of the interior of the building and where the attraction will be located.
However, now it has come to light that a number of days ago TowersTimes forum members homfecep and spin_doctor discovered that there was more to the planning document named "Roof Plan". The document contained a number of hidden layers which revealed some of the interior details of the new attraction.
TowersTimes have since verified these claims and an image showing the interior of the building can be found below that we have extracted ourselves from the PDF using Adobe Illustrator.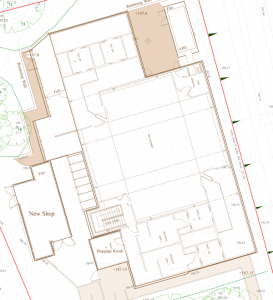 Click here to view larger image
The above image has been taken from the Planning Portal and the elements which were above the interior plans have been removed using Adobe Illustrator.
As you can clearly see from this image there are 3 main areas of the attraction within the building. A pre-show, the main ride and a post-show.
From what the plans show guests will first leave their baggage in a storage area, similar to the one used in Thirteen. Afterwards guests will be split into groups and sent to one of two rooms (Pre-Batch Room 1 and 2) before then proceeding to a "Entry Lift".
Interestingly the "floor level" height markings on the new layer remain very similar throughout the rooms inside the building, including the "lifts" drawn on the plans, possibly indicating that the lifts are for effect rather than actual working lifts (plus the lack of machinery room and lift pits) and that the ride and attraction remains on a very similar level, going against first thoughts about the attraction being on multiple levels after plans showed the building going deeper into the ground.
Riders will then exit the entry lifts and proceed to the "Ride Chamber" where the main experience will take place, before then exiting through one of the exit lifts for the post-show.