Several curious TowersTimes members received a short lived suprise when browsing on the Alton Towers website this morning after it appeared that a new website look had been launched by the resort web design partners, headland.
However with the news of the Facebook Places tie in (see todays earlier article) with the resort offering free entry on 18th February to all those who check in, the website appeared to have become unfortunately overloaded in its first test of a high profile event and traffic, and the new site was quickly pulled from view.
The site has resorted to showing a splash page detailing the Facebook Places tie in for most of the day, with someone at headland occasionally flicking the switch to reveal the whole site, before it rapidly disappears again.
Hopefully headland and the resort will work out the issues preventing the new site from launching properly soon, but in the mean time we managed to grab a screenshot of the new front page almost complete in its sporadic appearance, although some of the "gold trim" detail appears to be missing…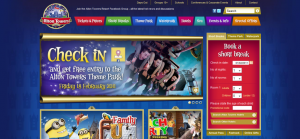 (Image posted by forum member theoblivion showing the gold detail)
The new look for the site sees the disappearance of the previous 3 years of gold pipes and 'formal' typefaces tradition, with more wacky and fun graphics, fonts and typefaces used, along with bolder brighter colours, of course with the 'famous' Alton Towers silhouette in the background – all adding to the overall 'fun' theme.
The ride pages are also rumoured to have been given a spruce up with more features, as well as the content of the whole site overhauled to include seemingly more detail than previous.
Edit @ 20:00 It looks that headland and the resort continue to have issues with the new site, and the old site has been reinstated for the time being, with no update as to why the new site made a brief appearance. The"Ticket & Booking" website remains converted to the new site design however.
Edit @ 03/02/11 The new website has now launched and you can view it at www.altontowers.com
Example Ride Page (TH13TEEN):

Example Hotel Page (Alton Towers Hotel):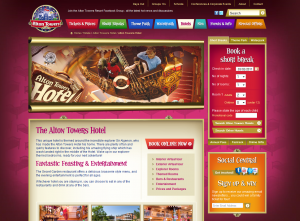 Discuss the new brand, website and promotional material for 2011 on our discussion forums right here.