Alton Towers' famous mascot descended from the famous Talbot Hounds who appear on heraldry around the Towers. After departing the park at the end of 1993, Henry remained absent for many years until he briefly returned to the Towers for the 2005-2007 seasons.
In 1987, one of the new attractions at Alton Towers was an animatronic hound dog named Henry. He performed country and western songs at regular intervals in a window in Towers Street. Henry attracted much attention as the technology involved was quite advanced for the time and he was said to look quite realistic by many guests.
Later on, this singing hound dog was renamed Hank, as a new, more cuddly Henry appeared in the park as a costume character, who rapidly became the park's main mascot. The last of the Talbot Hounds, Henry was descended from the the heraldic hounds of the Earl Of Shrewsbury who once owned the Alton Towers estate. These hounds can be found around the estate in statues, such as at the entrance to Hex.
Over the years Henry appeared, along with his lifelong friend Henrietta, in a variety of entertainment around the park, such as magic shows, ice shows and parades. He even had his own series of books as well as appearing in comic strips in the Wonderful Times, the magazine for the Alton Towers Fun Club.
When Tussauds took over the park Henry received a makeover, as out went his famous yellow T-Shirt to be replaced by a more modest pair of dungarees. But the hound's days in the park were numbered and Henry left Alton Towers in 1993. Following his departure, his parade was discontinued, Peter Rabbit took over the ice show and the Fun Club continued without a mascot.
For many years Alton Towers went without a mascot, however in 2005 Henry Hound made a triumphant return to the Towers, where the new and improved hound (once again resplendent in his yellow T-Shirt) appeared in the daily carnival. His return was to be short-lived however as he left once again in 2007 and hasn't been seen since.
Henry's Adventures in the Fun Club
Children aged between 4 and 14 could join the Alton Towers Fun Club. This originally allowed them unlimited free access to the park when accompanied by an adult, but in later years, the offer was reduced to four free visits per year. Fun Club members were also sent regular mailings and discounts for park merchandise. Every member was given a membership card and passbook.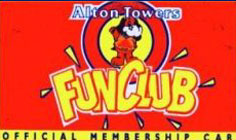 'Wonderful Times' was the Fun Club magazine which was sent to members 3 times a year. In it were interesting facts, competitions and even a Henry Hound cartoon, scans of which can be found below.
Henry's Shows & Parades
Over his years in the park, Henry starred in many shows and parades. Follow the links below for more information on some of these attractions.