TowersTimes' very own pilot, MI7, has taken to the skies once again to provide three exclusive aerial updates from the Alton Towers Resort. Soaring through the skies above the resort, he manged to capture images of the site of the rumoured new CBeebies Land coaster on the site of the old Beastie, progress on the Enchanted Village, and more from across the park.
The former Beastie site has been completely cleared of any remnants of the site's former occupant and a significant amount of activity is taking place. What appears to be a concrete foundation has been put in place ready for a new installation – rumoured to be a Zamperla Children's roller coaster – to be put in place on the site.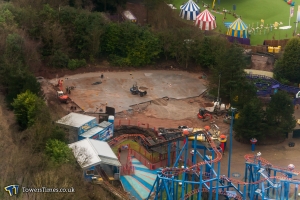 Space Adventures Playground has been completely removed suggesting that the boundaries of CBeebies Land will be extended to encompass the new attraction adding a significant area to CBeebies Land. This would leave Sonic Spinball as the stand-alone attraction in Adventure Land – could this mean the spinning coaster may be moved or removed in the near future as suggested in the Long Term Development Plan?
Meanwhile over in CBeebies Land there is little sign of winter maintenance, however this is most likely due to the area being open for the recent festive openings. All the bugs on Get Set Go! Treetop Adventure are still in place as are the boats for the In the Night Garden Magical Boat Ride and the vans for Postman Pat's Parcel Post.
TowersTimes.co.uk Alton Towers Resort from another point of view!
TowersTimes is the largest independent guide to the Alton Towers Resort with all the information needed to help you plan your trip. We also have the most comprehensive history of the park available online.
TowersTimes Forum is the beating heart of the Alton Towers community. With thousands of active users, our free to join forum is the best place on the internet to share your thoughts, passions and memories of the Alton Towers Resort.
Get Social! For the latest news and updates follow us on Twitter, Instagram and like us on Facebook.