The annual Fireworks Spectacular will return once more to the Alton Towers Resort this year on 7th, 8th, and 9th November, providing the perfect end to the 2014 theme park season.
Promising once again to tell a "unique story with an amazing amount of fireworks, lasers, ear-popping music and special effects", the 20 minute show will be provided by Jubilee Fireworks, the company behind many of the resort's displays in recent years. The theme park will remain open until 9pm each evening, meaning guests will have the opportunity to experience all of Alton Towers Resort's most thrilling rides in the dark one last time before the close of the 2014 season.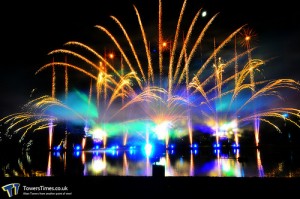 To help guests make their experience during The Ultimate Fireworks Spectacular extra special, the resort are offering a number of packages to help make it a memorable day:
Spectacular Package – From £45 in advance or £61.20 on the day
• Park Entry
• Fastrack Scream – one fastrack on Air, Nemesis, and Nemesis: Sub-Terra
Ultimate Package – From £35 (child), £42 (Adult) or £56.40 on the day
• Park Entry
• Regular sized meal at any Burger Kitchen Outlet

VIP Experience – £99 (Adults) or £79 (Children) with 10% discount for Annual Pass Holders and 20% discount available for VIP Annual Pass Holders
• Park Entry
• Exclusive seating area on the front lawns offering an unobscured view of the show
• Glass of Champagne on arrival
• Unlimited food from the Hog Roast and unlimited hot and soft drinks
• Exclusive access to a payable bottle bar and toilets specifically for VIP guests
• Designated parking in the express car park
• Fastrack for Nemesis, Th13teen and the Runaway Mine Train
Are you looking forward to visiting the resort for The Ultimate Fireworks Spectacular? Make sure you discuss your thoughts over in the TowersTimes Forum. With the end of the season fast approaching, keep an eye on TowersTimes for all the latest news and updates from the Alton Towers Resort.
TowersTimes.co.uk Alton Towers Resort from another point of view!
TowersTimes is the largest independent guide to the Alton Towers Resort with all the information needed to help you plan your trip. We also have the most comprehensive history of the park available online.
TowersTimes Forum is the beating heart of the Alton Towers community. With thousands of active users, our free to join forum is the best place on the internet to share your thoughts, passions and memories of the Alton Towers Resort.