The Furchester Hotel is expecting a very special guest and they need you to help them prepare for their arrival!
Head through the famous revolving doors of The Furchester Hotel and prepare to meet Phoebe, Funella, Furgus, Elmo and Cookie Monster, as they prepare for the exciting arrival of the one and only Chick Swagger! If Chick Swagger likes what he sees, he may even give an exclusive performance of his famous rock-a-doodle-do hit, Tail Feather Shake.
Manufacturer: Merlin Studios / Sesame Workshop
Duration: 15 mins 00 secs
Located between the entrance to the Big Fun Showtime Arena, and Go Jetters Vroomster Zoom Ride, guests enter the queue line located to the side of the highly themed building, designed to be a replica of the Hotel from the CBeebies television programme. Guests are batched into large groups by a host, with the host counting the number of guests who enter the attraction to keep a close check on the number of guests for each show.
Guests enter through the doors of the attraction and find themselves in a large room with a hotel reception desk at the front and centre of the room and two video screens on either side of the desk. The entire room is highly themed in a style some would recognise as being similar to that seen in The Muppets.
The show itself is hosted by a combination of an actor dressed in a Furchester Hotel uniform, and puppets for the characters of Phoebe, Funella and Fergus. These are also joined by Elmo and Cookie Monster who appear on the two screens in the room. All of the characters take guests through a series of tasks to help the Hotel prepare for the arrival of their special guest, Chick Swagger. Once all the tasks are complete and Chick Swagger himself arrives at the Hotel to finish the show with a sing and dance along to his hit, the Tail Feather Shake.
In July 2016, a planning application for an expansion to CBeebies Land, including a 'rotating ride' and 'family entertainment building', was submitted to Staffordshire Moorlands District Council and, following the application's approval, construction of the new attractions commenced in late 2016.
On 13th January 2017 it was announced that The Furchester Hotel (along with Go Jetters) would be joining the CBeebies Land line-up, with the addition of The Furchester Hotel Live between the existing Big Fun Showtime Arena and Mr Bloom's Allotment.
The attraction opened at the start of the 2017 season on March 25th.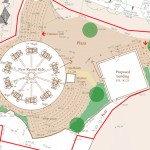 Plans
New friends arrived in 2017 as CBeebies Land expanded once more with the addition of Go Jetters Vroomster Zoom Ride and The Furchester Hotel Live.