In 2015 the Enchanted Forest Tree Top Quest swung into the Alton Towers Resort, allowing guests of all ages to venture high into the trees of the woodland near to the Enchanted Village, on a junior and adult high ropes course. The attraction is available during throughout the year, and can be great fun on a Summer's evening.
On-the-day/Online
Low Ropes – £20.00/£15.00
High Ropes – £25.00/£20.00
Located: Forest near hotels
When driving down to the resort accommodation car parks you'll be able to see Enchanted Forest Tree Top Quest on your left and may even be able to catch a glimpse of other guests traversing the courses. Upon arrival, the pedestrian route to Tree Top Quest is clearly signposted, although it shouldn't be hard to spot from afar!
There are two courses to choose from; a low ropes course and a high ropes course. As the low ropes course is at a lower height and of shorter length, it is suitable for younger guests, although some of the obstacles can still pose quite a challenge. Further details about the courses can be found in the tabs below.
To guarantee a place during your desired time slot it is best to book in advance, which will also allow you to take advantage of a discounted price, however there may still be spaces available on-the-day.
Your Tree Top Quest experience begins with the fitting of your safety harness, which is followed by a safety briefing. Guests then have the opportunity to navigate their way around the practise area, consisting of one obstacle and a short zip-line just a few feet off the ground. Once you're ready, you'll make your way over to the start tower and climb up to the start of your chosen course.
Both courses feature a variety of different obstacles including rope bridges and swinging planks, as well as a few zip-lines during the course and a large one to finish. It's possible to purchase a photo of your zip-wire finish for £10, or before you start the course you can request a helmet-cam which will film your adventure, with the video available to purchase for £20. Guests who do purchase the video can add-on photos for £5 each.
Guests who don't have a head for heights can always watch on with their feet firmly on the ground, as the majority of Tree Top Quest is visible from the pathways below.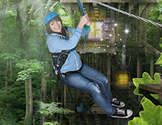 High Ropes
Minimum Height: 1.4m, Minimum Age: 11 years
After climbing 8 metres up the spiral staircase of the central tower, thrillseekers make their way across 19 obstacles. They'll have to clamber over nets, tiptoe over stepping stones and climb a boulder wall, before taking an 85m zipline back to the ground. The experience is expected to last between 1 hour and 1 hour 30 minutes.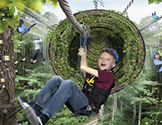 Low Ropes
Minimum Height: 1.0m, Minimum Age: 6 years
Younger guests or those not so keen on heights can traverse the lower course that ranges from 3.5-5 metres in height. The course contains similar obstacles, including a final zipline back down to the ground. The experience is expected to last between 45 minutes to 1 hour.
Have a browse of our galleries covering the construction of the Enchanted Forest Tree Top Quest –  the latest galleries are at the top, just click on the icon to load the full collection of images!