The Enchanted Village is home to its own quirky restaurant where breakfast and dinner is served daily to village guests. Take some time to marvel at the images that line the walls which have captured rare glimpses of the village's mystical folk, although not all is as it seems. Guests can also enjoy evening entertainment whilst eating dinner at the end of a busy day.
The Crooked Spoon serves a variety of traditional dishes with a village twist, including burgers in a toadstool bun! A kids menu is also available, and both can be found below.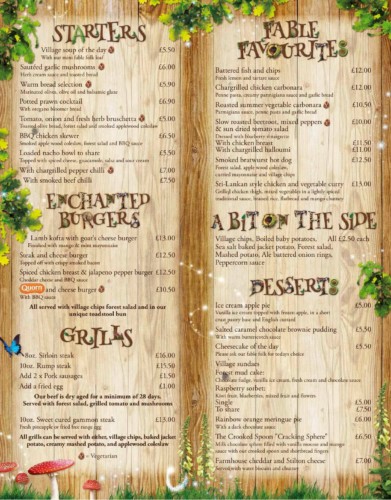 Breakfast
Every morning the fable folk prepare continental breakfast in The Crooked Spoon, ready for when village guests wake up. Those guests who prefer to sleep in a little later are also able to request that breakfast is delivered to their Woodland Lodge or Luxury Treehouse.