Younger guests can pop along to the Cuckoo Cars Driving School where they can take control of their own miniature car and navigate their way around colourful characters and obstacles found along the twists and turns of the roads!
Manufacturer: S&B International
Ride Type: Miniature Driving School
Rethemed: 2012 / 25th March 2017
Capacity: 450 riders per hour
Just like the rest of Cloud Cuckoo Land, everything about Cuckoo Cars Driving School is larger than life (aside from the cars of course). Stop at the sign of the lollypop lady, then onwards through the bubbly car wash! As guests swerve through the giant traffic cones, there's no need to worry about the hedgehogs here, as the two that are waiting to cross are bigger than the cars on the road! After maneuvering through all these obstacles and completing the course, guests are permitted to purchase their own driving licence.
For those too big to enjoy the attraction itself, there's a walkway bridge across the attraction which provides access between Fountain Square and Cloud Cuckoo Land, and fantastic views across Driving School and the rest of the area.
The attraction opened in July 2006, replacing the Cred Street Carousel and Vintage Car Ride which previously occupied the area. It first opened as the Peugeot 207 Driving School, with the cars loosely modeled on Peugeot's 207 car range. Alongside the attraction, a Peugeot showroom opened in what was formerly the Fabulous Toy Shop, which also included a new Education Centre.
The first changes came in 2010 when the attraction became known simply as Peugeot Driving School, which also saw the showroom become a small fun-house called Rory's Play Den.
The Peugeot sponsorship finally came to an end in 2012, with the attraction's name shortened further to just Driving School, with all branding removed from the attraction. This year also saw the addition of a remote control Driving School in the area next to the Education Centre.
The attraction was closed for the entirety of the 2016 season as part of the Resort's Towers Loving Care programme. With its Cloud Cuckoo Land counterpart, Charlie and the Chocolate Factory: The Ride, permanently closing, many were pleased to hear that Driving School would return for 2017, having received a colourful repaint throughout the course, and new decals for all the cars, with its rebrand to Cuckoo Cars Driving School.
Behind the Scenes
In advance of the Driving School's opening, TowersTimes were some of the first people to see the resort's brand new family attraction, as well as take a peek at some otherwise off-limits areas.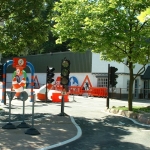 Construction
During the Winter Weekends of 2006, the Cred Street Carousel and Vintage Cars remained mysteriously closed and it became clear that they were to be replaced by a 'Driving School'.