Ever wondered how your senses work? Then Join Nina and her Neurons in Nina's Science Lab. Learn all about how your very own neurons control your senses, as well as the amazing things your body can do, in this fun scientific hands on attraction.
Manufacturer: BBC Worldwide
Nina's Science Lab features a range of experiments which explores our five senses and how they work. As you work your way around the attraction you can explore each different sense in turn with the help of Nina's Neurons – Felix (touch), Belle (hearing), Luke (sight), Ollie (smell), and Bud (taste). Experiments include exploring how different textures affect your sense of touch, learning how sound waves work to carry sound from one end of a tube to another, and identifying a selection of different smells (both pleasant and not so pleasant!). Each will enable you to discover more about how not only your senses work on their own, but also in conjunction with each other to help you experience the world around you.
The area now occupied by Nina's Science Lab started life as an education centre for the former Old Macdonald's Farmyard. First opening in the early part of the 1990s when the area became Safeway Farm, the education centre was primarily used during school visits to the area only opening to the general public during peak times and special events. The transformation into Nina's Science Lab ensures the attraction retains its core purpose as an educational facility and will continue to help the resort meets its educational commitments.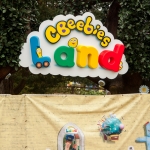 Construction
When Old Macdonald's Farmyard and Storybook Land were rethemed into CBeebies Land for May 2014, we documented its construction, including an aerial update from MI7!