Pay a visit to Charlie and Lola at their home on Crocodile Street, where a whole host of fun awaits. How about helping Lola make lunch for Soren Lorenson, or taking a peek into Charlie and Lola's bedroom where there's lots of dressing up to do? Follow the bugs who will help you find your way to Greenland where it's always raining Green Drops, then drop into the supermarket under the sea, where you can watch the ocean nibbles swim. Still full of energy? Try climbing to the top of Mount Fuji, are you able to touch the cloud fluff?
Age Restrictions: Under 18s unless with a child
Manufacturer: Merlin Studios
The attraction comprises of a range of interactive play areas for young guests to explore and engage in. As you first enter, on the left hand side is Charlie and Lola's kitchen. Here you can investigate what is hidden in the fridge and cupboards as you help make Soren Lorenson his lunch.
Once you've finished in the kitchen, you can crawl through the hidden doorway under the kitchen table. On the other side you'll find a whole host of options to explore. On the left hand side is Mount Fuji, a large climbing frame which you can scale to touch the clouds. After you've completed your climb and descended the other side you can then try and catch the swimming fish-fingers on the interactive floor. Over on the opposite side of the room is a large enclosure containing the green drops – a ball room where young guests can play and interact.
Finally, you make your way through to Charlie and Lola's bedroom. Here young visitors can help Charlie and Lola choose from a selection of different outfits, with the characters faces being displayed on interactive screens which react to whatever items of clothing are selected.
Charlie and Lola's Moonsquirters & Green Drops occupies the site which was formerly home to the ever popular Alton Towers donkeys – George and Granville.
The donkeys were just some of a range of furry friends which called the resort home. The first animals to arrive were the giant bunnies in 2007, which were the first animals to reside in Old MacDonald's Farmyard since the foot and mouth crisis of 2002. It was in 2008 that miniature donkeys George and Granville joined the line-up and became a firm favourite of many guests who visited the resort.
At the end of the 2013 season Old MacDonald's Farmyard closed for the final time to make way for CBeebies Land. After a brief stay in the grounds of the Alton Towers hotel, George and Granville made the journey south to their new home at Chessington World of Adventures Resort.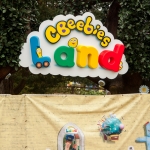 Construction
When Old Macdonald's Farmyard and Storybook Land were rethemed into CBeebies Land for May 2014, we documented its construction, including an aerial update from MI7!