The opening of CBeebies Land in 2014 gave guests the opportunity to visit Charlie and Lola at their home on Crocodile Street, where a whole host of fun awaited in this walkthrough attraction.
Manufacturer: Merlin Studios
Opening Year: 2014 (24th May)
Closing Year: 2020 (15th March)
The attraction comprised of a range of interactive play areas for young guests to explore and engage in. As you first entered, on the left hand side was Charlie and Lola's kitchen, where guests could investigate what was hidden in the fridge and cupboards as they helped make Soren Lorenson his lunch.
Once finished in the kitchen, guests could crawl through a hidden doorway under the kitchen table. On the other side there was a whole host of options to explore. On the left hand side was Mount Fuji, a large climbing frame which you could scale to touch the clouds. After completing the climb and descending down the other side, guests could then try to catch the swimming fish-fingers on the interactive floor. Over on the opposite side of the room was a large enclosure containing the green drops – a ball room where young guests could play and interact.
Finally, guests made their way through to Charlie and Lola's bedroom. Here they could help Charlie and Lola choose from a selection of different outfits, with the characters faces being displayed on interactive screens which reacted to whatever items of clothing were selected.
Charlie and Lola's Moonsquirters & Green Drops occupied the site which was formerly home to the ever popular Alton Towers donkeys – George and Granville.
The donkeys were just some of a range of furry friends which called the resort home. The first animals to arrive were the giant bunnies in 2007, which were the first animals to reside in Old MacDonald's Farmyard since the foot and mouth crisis of 2002. It was in 2008 that miniature donkeys George and Granville joined the line-up and became a firm favourite of many guests who visited the resort.
At the end of the 2013 season Old MacDonald's Farmyard closed for the final time to make way for CBeebies Land. After a brief stay in the grounds of the Alton Towers hotel, George and Granville made the journey south to their new home at Chessington World of Adventures Resort.
Charlie and Lola's Moonsquirters & Green Drops operated for the final time during the usual pre-season events held ahead of the planned start of the 2020 season. Given the interactive nature of the attraction, following the COVID-19 pandemic it remained closed when the rest of the theme park reopened, ultimately being replaced by JoJo & Gran Gran At Home for the 2022 season.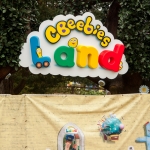 Construction
When Old Macdonald's Farmyard and Storybook Land were rethemed into CBeebies Land for May 2014, we documented its construction, including an aerial update from MI7!