Join Tree Fu Tom and friends on an amazing adventure where you can become a Tree Fu Master through play! At the Tree Fu Tom Training Camp you can learn your Tree Fu moves and spells, before heading out and around Treetopolis. Whilst on your adventure you can meet all to Tom's magical friends from Zigzoo's boat to Ariela's Ranch. Jump, run, slide, swing, push, pull and glide; put your skills to the ultimate test to become a Tree Fu Hero!
Min. Rider Height: See Attraction Signage
Max. Rider Height: See Attraction Signage
Manufacturer: Russell Play
Tree Fu Tom Training Camp is an adventure playground featuring a range of play equipment suitable for children of all heights and ages. The playground is split into areas themed around various elements from the popular CBeebies cartoon and encourages children to learn 'Tree Fu Spells' to help them on their adventure.
Ariela's Ranch: Use the 'Power Lasso Spell' to make your way through Ariela's Ranch and help her turn the windmill on top of the building.
Zigzoo's Boat House: Push through the doors and solve the puzzles on the boat using the 'Mega Push Spell'.
Squirmtum's Caverns: Crawl your way through the caverns using the 'Lifto Spell' to help you on your way.
Twigs' Treetop Adventure: Make your way across the climbing frames, just as if you are swinging through the treetops of Treetopilis.
Tom's Treetopolis Tower: Climb to the top of the climbing web to get an amazing view over the entire playground.
Tree Fu Tom Training Camp occupies the site of the former The Dung Heap Playground which formed part of the former Old MacDonald's Farmyard area of the park.
When the Farmyard initially opened as the Britannia Building Society Farm in 1989, the site was the location of some of the animal paddocks which were home to just some of the many farm animals which called the resort home. However, with the outbreak of foot and mouth disease in 2002, the park took the decision to get rid of their farm animals to prevent them from catching or spreading the disease.
In 2007 The Dung Heap playground opened. Split into four main areas, the playground offered something for all ages and heights including mazes and interactive play equipment, to slides and climbing frames.
The Dung Heap closed at the end of the 2013 season to make way for the re-development of Old MacDonald's Farmyard into CBeebies Land. The majority of The Dung Heap was removed, however Cobweb Capers' zip wire and climbing frame can still be enjoyed in Tree Fu Tom Training Camp.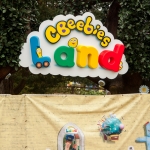 Construction
When Old Macdonald's Farmyard and Storybook Land were rethemed into CBeebies Land for May 2014, we documented its construction, including an aerial update from MI7!