Hop aboard your very own Numtum cart and get counting with the Numtums on their Number-Go-Round. Take control of the steering wheel and whizz around. Let the race begin!
Unaccompanied Height: 1.0m
After queuing guests are directed to board the ride with children choosing one of the numbered Numtums characters and parents sitting on a bench in the middle of the ride. The ride is a merry go round experience which allows children to whizz around as if racing their Numtums carts whilst their parents watch them whizz by. Each character also has a button which can be pressed to make the carts come to life with sound.
The Numtums Number-Go-Round is situated on the site of the former Doodle Doo Derby. One of the original attractions in Old MacDonald's Farmyard and first opened in 1995 having been built over part of the duck pond that had previously been the centrepiece of the farm.
Featuring a thatched roof with a large cockerel set on top, young guests could choose to ride one of a wide range of farmyard animals, including chickens, sheep, cows and ducks. Parents could keep a close eye on their little ones from a bench in the middle of the ride. The ride was often very noisy with children able to press a button to hear each animal's call. It wasn't unusual to see children getting up mid-ride to change animals, something which, as the animals were securely bolted to the turntable, was perfectly safe.
In October 2013 the animals of Doodle Do Derby made their calls for the last time as Old Macdonald's Farmyard closed its gates for the last time ready for the transformation into CBeebies Land for the 2014 season.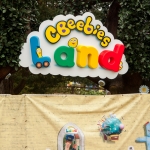 Construction
When Old Macdonald's Farmyard and Storybook Land were rethemed into CBeebies Land for May 2014, we documented its construction, including an aerial update from MI7!