Ever wanted to explore the magical world of Iggle Piggle and friends? Well now you can on the In The Night Garden Magical Boat Ride. Set sail in your colourful boat on a magical journey to discover all your favourite characters, from the Tombiboos playing peek-a-boo, to Upsy Daisy and even Iggle Piggle. As you drift along children will love the sights and sounds of a picture book that has come to life.
Unaccompanied Height: 1.0m
Ride Type: Free Flow Boat Ride
Rethemed: 1999, 2007 & 2014
Guests enter the queue-line where there is a selection of activities from puzzles to musical instruments to keep little guests entertained during the wait. You approach the boarding area via an indoor section where a short introduction from In the Night Garden plays before you move to the platform ready to board your boat.
As you set off you pass through a floral arch you start your journey by encountering the Ninky Nonk, one of the modes of transport for the characters of In the Night Garden. The on board audio guides you along the way as you encounter all the familiar characters from the popular television show.
Next you see the Tombliboos playing peek-a-boo, then gently meander past the Haahoos and Tittifers. Heading around the corner you meet Makka Pakka in his cave before moving on to see Upsy Daisy in her Daisy Patch with her bed.
As you begin the final section of your journey you pass the Pontipines and Wottingers on the right hand side in their house before approaching the final part of your journey. All the characters, including Iggle Piggle, are seen gathered underneath the Gazebo in the final scene of the ride, just as at the end of each episode of the television show. Approaching the station, you sail past a large In the Night Garden storybook, before arriving back at the boarding platform ready to disembark.
The In The Night Garden Magical Boat Ride began life in 1989 as The Canal Boat Ride, and was part of the original line up of attractions in The Britannia Farm. The Canal Boat Ride offered guests the opportunity to take a leisurely ride around the farm's paddocks to view some of the many animals who called the farm home.
In 1999 the ride was re-themed to become Riverbank Eye Spy, an interactive ride which encouraged children to guess and spot the animals as they glided along. Upon spotting an animal children were encouraged to press the corresponding button in their boat in order to hear the noise that animal made. Initially, Riverbank Eye Spy had 2D theming, however in 2007 this was replaced with new 3D models. The ride remained a favourite with families until its closure in October 2014.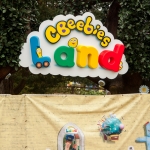 Construction
When Old Macdonald's Farmyard and Storybook Land were rethemed into CBeebies Land for May 2014, we documented its construction, including an aerial update from MI7!