Alton Towers Spa provides the perfect chill out zone in which to unwind after a thrilling day in the theme park. The lower level is home to the peaceful Aqua Relaxation Rooms, whilst the beautifully designed treatment rooms on the upper level take inspiration from Arabic and Eastern culture, each with their own individual style. Softly draped ceilings, gentle music and hand painted murals on the walls heighten the experience .
Complimentary herbal & fruit teas
Complimentary fruit juices
Opened: 2003
Located: Alton Towers Hotel
There are a number of entrances into the Spa's reception area, depending on where you are approaching from. Firstly, the Spa can be accessed internally from the first floor of the Alton Towers Hotel, with a short flight of steps down to the Spa's entrance. There are also two external doorways on either side of the area at the bottom of these stairs – these provide exterior access from both the side of the Enchanted Village and CBeebies Land Hotel, and then from the gardens of the Alton Towers Hotel.
When you enter the Spa you will be asked by the spa therapist if you want a tour of the Relaxation Rooms, it's advisable to take this tour in order to make the most of the facilities, as you'll also be given some useful tips when using certain rooms. You will then be guided to the changing rooms, where a robe and slippers will be waiting for you. Remember the lockers need a pound coin which is refundable.
As the number of people allowed into the spa at any one time is highly limited, you will often find that you have the Relaxation Rooms or even the pool to yourself. Throughout your visit, complimentary herbal & fruit teas and fruit juices are available.
Aqua Relaxation Rooms
Alton Towers Spa is home to several Aqua Relaxation Rooms as well as a pool, whirlpool and jacuzzi, all designed to awaken your senses in order to ease tension in a peaceful environment.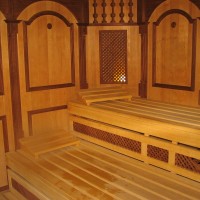 Edwardian Sauna
This Edwardian-styled sauna room warms the body, increasing circulation and aiding in the detoxifying process. We recommend that you shower before, then again half way through your experience and afterwards in very cold water. Allow around 10 minutes for this experience.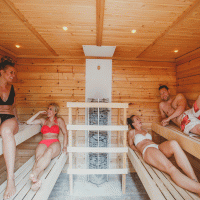 Traditional Outdoor Log Sauna
This is a more traditional sauna cabin, located outside and accessed by a door off of the pool area. The sauna warms the body, increasing circulation and enabling total relaxation. We recommend that you shower before, then again half way through your experience and afterwards in very cold water. Allow around 10 minutes for this experience.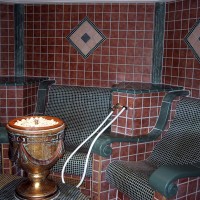 Roman Sauna – Laconium
This is a gentle, purifying and detoxifying heat room, aiding in stimulating circulation. There are hoses inside the sauna with ice cold water, which you can use to refresh yourself enough to extend your visit. You should allow around 15 minutes for this experience.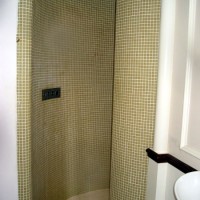 Multi-Sensory Showers
There are 4 different settings to choose from; 'Rain' showers you with large water droplets. 'Tropic' is a refreshing, cool and tingly mist of water. 'Fresh' is a mist of tepid water and water sprays from the side. Finally, 'Side' is the side showers spraying lukewarm water.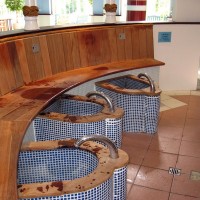 Foot Reflexology Baths
This is a fully automatic foot bath which is good for relieving pressure on your feet and ankles. Firstly the bath will fill up with water, followed by the underwater jets massaging your feet and ankles. The sensor behind you will detect when you leave, allowing the bath to empty.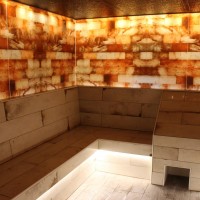 Eucalyptus Steam Room
This room is designed to soothe aching muscles and joints whilst improving circulation. The essential oil aroma of eucalyptus is meant to offer well-being, leave you feeling rested and improve your respiratory system. Allow around 15 minutes for this experience.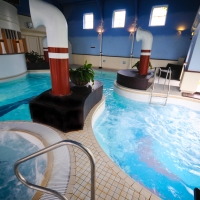 Pool, Jacuzzi and Whirlpool
Relax in the pool away from the children and the stresses of everyday life. This jacuzzi is found next to the pool, press the button on the wall, climb in, then sit back and relax. The Whirlpool can be found adjoining the main pool, simply press the button on the wall to start the bubbles.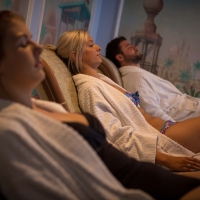 Tepidarium
This impressively designed room is at a temperature of 39°C and contains ceramic-tiled heated couches designed to fully relax you, simply sit back on one of the couches and let it do all the work. We recommend to allow around 10-15 minutes for this experience.
Treatments and Packages
There are a variety of treatments on offer at the Alton Towers Spa, which range from quick 15 minute sessions to almost 2 hours of pampering, so there's certainly something to suit everyone.
If the theme park isn't for you, then you can always spend your day in the Alton Towers Spa by purchasing one of their packages. You're sure to find something, whether you're looking to spend the day with your other half or to enjoy lunch at the resort.
For more information and prices visit the Alton Towers Resort website.
The Alton Towers Spa opened originally as Pirate's Lagoon in 1996, which was a themed swimming pool for use by Alton Towers Hotel guests, as well as a games room where Pirate Bill's Kids Club was located.
When the Alton Towers Waterpark, then called Cariba Creek, opened in 2003, Pirate's Lagoon became redundant and so was closed, with Pirate Bill being moved to perform in the hotel's Atrium.
Later that year, the complex reopened as the Alton Towers Spa with the addition of several Aqua Relaxation Rooms, as well as an overall refurbishment and refit of the former games room to provide several treatment rooms.