Over three million hits a year is a huge amount for a website to receive, so naturally a team of dedicated and welcoming people are needed as the driving force behind it. TowersTimes & SouthParks has just that, with a team of enthusiastic and committed team members from every corner of the country.
From the maintenance of the server, administration and moderation of the TTSP Forum, news article editing and writing, to the management of our social media, the TowersTimes & SouthParks Team are committed to their roles on a voluntary basis, in order to bring you the best possible experience!
If you're interested in joining us, any vacancies are published on the TTSP Forum.
Chris
Founder
Chris is the tall and cuddly teddy bear of the team, supporting all aspects of the websites. From the day-to-day operations to future plans, Chris oversees the decision making involved with keeping TTSP one of the best fan sites out there.
Adz
Admin – Forum, Branding & Content
Adz is involved in overseeing the development of the forum, alongside many other aspects of the TowersTimes & SouthParks sites. Outside of TTSP, Adz can be found complaining, using balloon pumps to power his workplace's server, or sipping a cocktail in his very own hot tub (ooh, fancy!).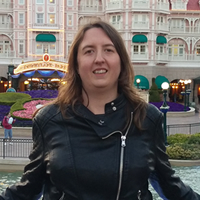 Katie
Admin – Head of News & Social Media
Katie is TTSP's resident news reporter, keeping our community up to date with all the latest developments via our website and social media outlets. When she's not busy keeping abreast of the latest news from the theme park world, Katie enjoys her musicals, doing the odd spot of baking, and finding new books to delve into.
Rob
Admin – North Events & Merchandise
Rob is the events manager for those hosted in the north. When not organising our amazing events, he can be found clinging to a truss rig wondering why the lights aren't working.
Dan
Forum Leader
Dan's role as a forum leader sees him helping to keep everything in order on the TTSP Forum, so that it continues to be one of best locations to discuss UK theme parks from another point of view! He can also be found enjoying (a long time ago in a galaxy far, far away) his favourite film franchise, Star Wars, or much closer to home supporting his football club, Derby County.
lewis97
Web & Content Developer / Graphic Designer
Lewis designs graphics for use across the websites, forum and social media, as well as producing and updating many of the website pages. When he's not doing that, you can be sure to see him checking up on the goings-on of the forum or keeping up-to-speed with the latest developments from theme parks around the world!
Morgan
Content Creator
As Content Creator, Morgan does a little bit of everything, providing snappy posts for your newsfeed and more in-depth columns for the main site. He can often be found haunting various theatres or lurking around The Towers Ruins, trying to figure out just how they managed to squeeze the mazes in. For some bizarre reason, Morgan often gets bombarded by other members during talks at TTSP Events – something which secretly terrifies him more than anything else.
RollerCoasterRachel
Content Creator
Rachel's role principally sees her assisting with content for the TTSP social media channels. This is helped by her practically being a resident of X Sector, as a result of what may be considered an unhealthy obsession with The Smiler! When taking a break from marmalisation, her time is spent with family, or exploring the paranormal – it therefore won't come as a surprise that Halloween is her favourite time of year to visit the theme parks.