With closed season almost half way through, construction on The Enchanted Village; the new accommodation offering at Alton Towers Resort for 2015 – is now making significant progress as the opening date of 18th April gets ever closer.
Since taking the first delivery of lodges on November 10th, approximately half of the final number of the lodges have now been installed, with the accommodation between the Alton Towers Hotel and the new Crooked Spoon Restaurant appearing to have been completed. The lodges are situated in close proximity to each other within their clusters, with green communication / power boxes having been installed to provide key utilities to each lodge.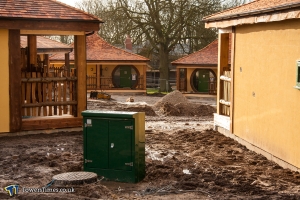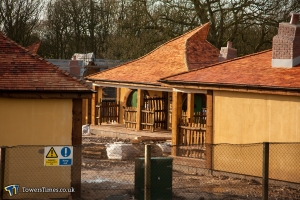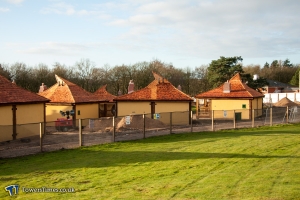 Significant progress is being made on the construction of the 5 treehouses with the main external structures now in place – including tower style features – and work on tiling the roofs and applying the external finishes taking place. A large grass bank has been landscaped in front of the treehouses, separating the luxury accommodation from the lodges.
The Crooked Spoon (the new restaurant for The Enchanted Village) is now beginning to take shape with the outer walls and roof having been added to the steel frame seen in the previous construction update.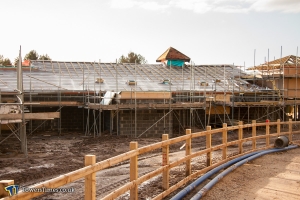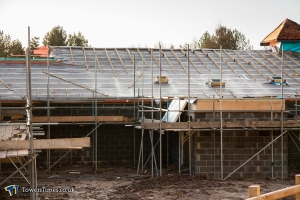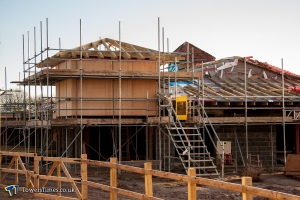 Over to the north east of the site are a number of partially assembled lodges in various stages of construction. One of the resort's overflow car parks is currently being used as a staging area to hold the parts of the lodges which are yet to be erected.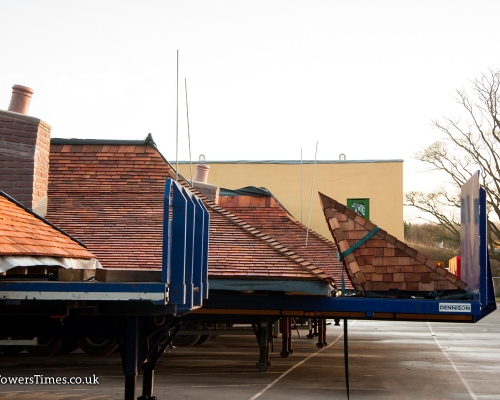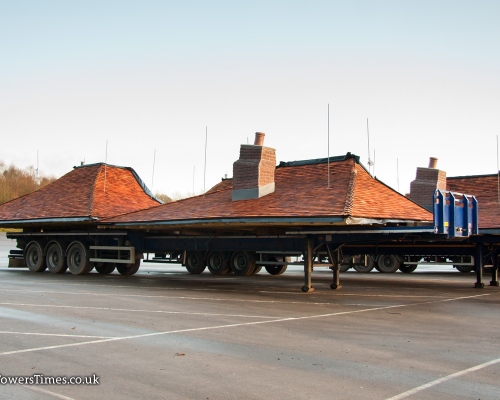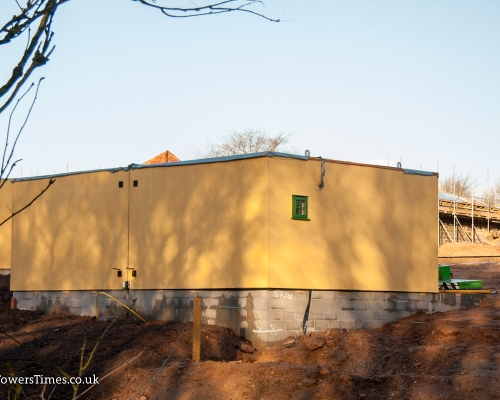 A name has also emerged for the proposed new high ropes course – Enchanted Forest Tree Top Quest. If granted permission, the new attraction will open in May and be located to the north of the Alton Towers Hotel car park and will be themed in a similar style to the Enchanted Village buildings.
What are your thoughts on the progress of the Enchanted Village so far? Are you tempted to book a stay? Why not take a look at our dedicated Enchanted Village section, or discuss your thoughts over on the TowersTimes Forum. As we get closer to the grand opening TowersTimes will continue to bring you regular updates from the resort.
TowersTimes.co.uk Alton Towers Resort from another point of view!
TowersTimes is the largest independent guide to the Alton Towers Resort with all the information needed to help you plan your trip. We also have the most comprehensive history of the park available online.
TowersTimes Forum is the beating heart of the Alton Towers community. With thousands of active users, our free to join forum is the best place on the internet to share your thoughts, passions and memories of the Alton Towers Resort.
Get Social! For the latest news and updates follow us on Twitter, Instagram and like us on Facebook.