In order to experience what Alton Towers Resort has to offer, you'll need to purchase a ticket that will grant you admission into its attractions. We've put all the prices for tickets below, as well as our best tips on how to enjoy the resort at a cheaper price.
Top Tips
Book online to receive a discount. Plan when you'll be visiting the Resort and book your tickets more than 5 days in advance for the largest discount. You'll also get Early Ride Time with theme park tickets!
Look out for 2-for-1 vouchers. These vouchers are an excellent way to halve the cost of your theme park vist. You'll find them on products, such as Kellogg's Cereal, as well as online.
Returning the next day? Buy a bounceback ticket. Head over to the Resort Box Office on Towers Street to purchase an admission ticket for the following day at just £10. You can also purchase a return anyday ticket (excluding special events) for £15.
Book a 2 day ticket in advance. If you know you'll be spending a second consecutive day at the Theme Park, book a 2 day ticket online in advance so that you only pay £7.50 for your second day.
Theme Park Tickets
Alton Towers Theme Park is home to over 50 rides and attractions, with something to appeal to guests of all ages. In order to enjoy these you'll need to purchase a ticket either prior to or on the day you visit.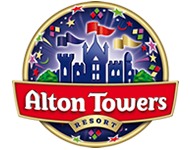 1 Day Ticket
| | |
| --- | --- |
| Adult (12+) | £54.00 |
| Child | £48.00 |
| Children under 3 | FREE |
| Disabled & Carer | £54.00 |
2 Day Ticket
| | |
| --- | --- |
| Adult (12+) | £61.50 |
| Child | £55.50 |
| Children under 3 | FREE |
| Disabled & Carer | £61.50 |
1 Day Ticket
| | |
| --- | --- |
| Adult (12+) | £40.00 |
| Child | £35.00 |
| Children under 3 | FREE |
| Disabled & Carer | £40.00 |
2 Day Ticket
| | |
| --- | --- |
| Adult (12+) | £47.50 |
| Child | £42.50 |
| Children under 3 | FREE |
| Disabled & Carer | £47.50 |
1 Day Ticket
| | |
| --- | --- |
| Adult (12+) | £32.00 |
| Child | £27.50 |
| Children under 3 | FREE |
| Disabled & Carer | £32.00 |
2 Day Ticket
| | |
| --- | --- |
| Adult (12+) | £39.50 |
| Child | £35.00 |
| Children under 3 | FREE |
| Disable & Carer | £39.50 |